Hochschulgottesdienst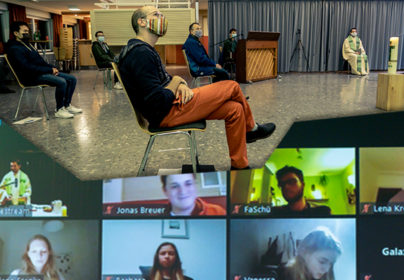 Hybrid Sunday services at the KHG
Live in Aachen, at home on the sofa, somewhere on the beach or in the evening with the flat at dinner – our Sunday service is hybrid. If you like, come to the KHG on Sundays at 7 p.m. and party live or just take us to your place. With our zoom access, this is possible:
https://us02web.zoom.us/j/84683211295?pwd=VXgreUFuUS9iTmcxRnlYZE8zZ1ZkZz09
Meeting ID: 846 8321 1295
Code: 901198
You can also participate in many places in the divine service: at home you can sing along, you can share your intercession with us via chat or also express your thoughts during the scripture discussion according to the Gospel.
Live, in the hall of the KHG, the following rules of our protection concept currently apply:
Disinfect your hands in the foyer of the KHG – a disinfection dispenser is available,
Please wear a mouth-nose cover – also on the square in the hall,
Write down your contact details on the available note in the hall – the note is ready on your chair,
Pay attention to the distances of 2m to the others – the input/output must always be kept free!
Thank you for your support during this time!
Gottesdienst-Team
Do you want to help shape the divine services at the KHG? We have started the format of hybrid services and are always looking for people who will make the divine services alive and colorful with us. At the moment we meet every 14 days in preparation for the upcoming two Sunday services. In addition, students participate in the divine service as a lecturer, in the technology for streaming, as a public order service, in musical design or as a lead singer.
Like to take a look in on Sundays, contact us directly or contact Matthias, our university chaplain
mf@khg-aachen.de