Studentenchor der KHG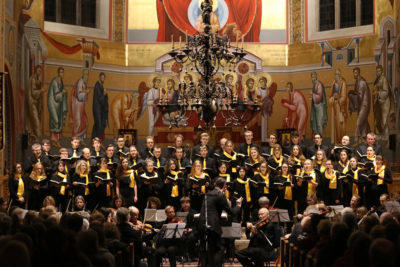 You do not only meet sounds, but also like to meet nice people? You know Mozart not only from the balls of the same name?
If you like to sing, like classical music and are looking for a choir in which, in addition to the music, a nice coexistence and joint activities play an important role, then you are exactly right with us!
Who is singing with us? Students and professionals, medical and mechanical engineers, 18 and 35 year olds, people who have been singing in choirs for 20 years and those who have only just discovered their talent, real "Öcher" and guest students from Asia – in short: a colorful mixture of about 60 people.
Sound 'n' Soul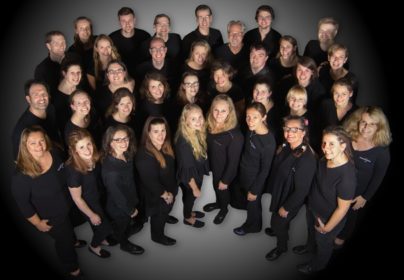 Stirring, contemporary, infectious: this is the best way to describe the music that the Aachen gospel choir Sound'n'Soul lives. The approximately 50 singers – most of them students – perform modern gospel songs with the charisma and expression reminiscent of the famous African-American churches of the USA. The choirmasters Iris Lüpges (conductor) and Stephan Helling (piano) work with the choir in the manner of traditional gospel choirs: Singing without notes, but with intuition and a lot of feeling allows freedom of movement and spontaneity. A concert of Sound'nSoul is an experience for young and old, where no one can stay in their seats for long.
https://www.soundnsoul.de/
https://www.instagram.com/gospelchorsoundnsoul/
Aachen Hot Springs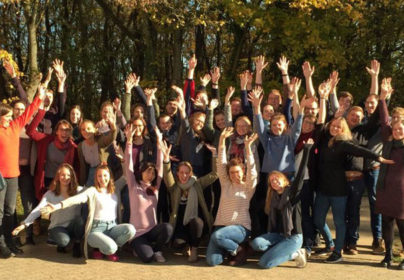 Since October 2012, the mixed student choir Aachen Hot Springs has been part of the Catholic University Community of Aachen. We are an ensemble open to all Aachen students and young people in their professional life, which currently consists of about 40 singers. Both beginners and experienced singers are welcome. In cooperation with the KHG Aachen, we regularly organize divine services and smaller concerts. The repertoire focuses on a cappella pop choral arrangements, some of which are also sung pieces from jazz, gospel or classical music. Since social interaction is an important part of the choir, we usually meet afterwards in an adjacent restaurant or pub.
Interested? Then contact us!
Lasse Guericke lasse.guericke@live.de
The choir rehearsals take place every Thursday from 7-9 p.m. in the Great Hall of the KHG Aachen, Pontstraße 74-76.
Les voix de L'harmonie
We are a group of students, former students and non-students from Aachen. Together we share our passion for religious and liturgical singing.
The choir was founded in 1998, thanks to the will and dynamism of young Cameroonian students, with the aim of sharing a part of our African culture with our new environment. Today the choir consists of about 20 members (women and men), who rehearse with great enthusiasm and united by their love of harmonic singing every Sunday (14:30 – 16:30) in the KHG.
Just visit us. Let yourself be carried away and enchanted. Because, the true magic lies in open hearts.

Board:
Lionelle Penkam: 0163 – 1303537
Raissa Ketchami: 0176- 45762243
voix_de_harmonie@yahoo.fr


Männervokalensemble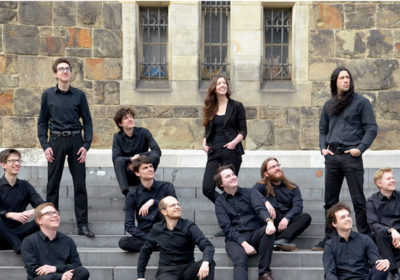 The men's vocal ensemble Aachen was founded at the end of 2017, within one year it doubled its membership of the seven founding members to 15 singers between the ages of 20 and 40 today. Under the direction of Andrea Jacobs, the young ensemble is dedicated to a wide repertoire from classical to modern, mainly in the field of Acappella literature. The singers are motivated by the warm sound of the romantic male choral singing as well as by fresh interpretations of contemporary arrangements. It attaches particular importance to a homogeneous and filigree sound, and it often also leaves the conventional choral arrangement to give the listeners a special sound experience.
Since June 2019, the men's vocal ensemble Aachen has been a member of the CV NRW.
Rehearsal: Wednesday, 6-7:45 p.m.
Website: www.mve-aachen.de
Contact: andrea@mve-aachen.de
einKlang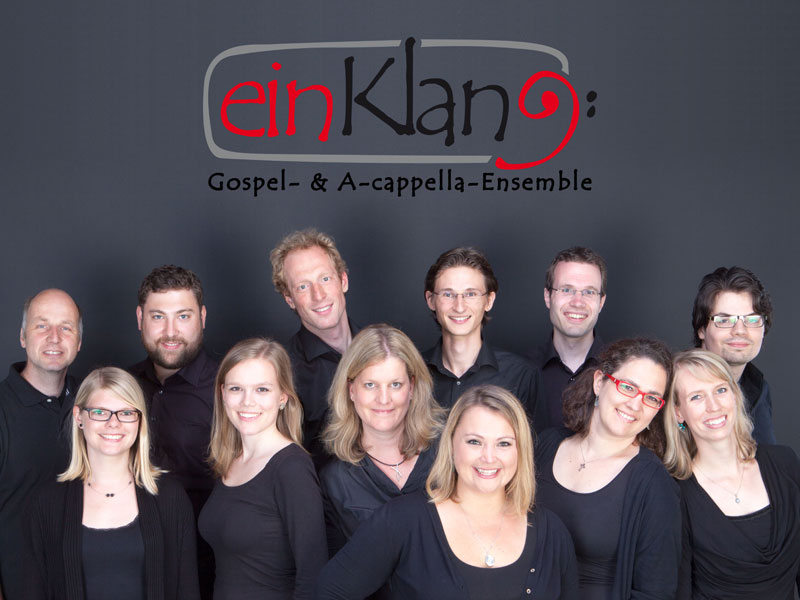 The ensemble was founded in Aachen in autumn 2006 and has been an active part of the urban choral scene ever since. In numerous regional and supra-regional performances, the ensemble succeeds in inspiring a wide audience.
Her passion and joie de vivre are evident in gospel music as well as in a cappella singing. The gospels are accompanied by the band oneSound. Some pieces were arranged by members themselves.
The renunciation of a musical direction by the formation is extraordinary. Each member brings their different skills and experience to regular rehearsal work.
The ensemble consists of a fixed number of members and rehearses every Wednesday at 8-10 p.m. at the KHG.
Gospel and A cappella?
a sound sings contemporary gospel music that does not adhere to a certain style. It ranges from touching ballads to rousing rock songs to all facets of pop music. The audience is invited to let themselves be carried away by the energetic sounds. Clapping and dancing is expressly desired!
The ensemble's repertoire also includes a cappella cover versions of well-known a cappella groups as well as his own arrangements. The polyphony ranges from four- to eight-part movements and is complemented by numerous solo parts. Through harmonious choreographies, the ensemble is not only acoustically, but also visually varied.
Contact: Florian Briechle – f.briechle@web.de
Tempelsingers
Founded as a student choir, the Tempelsingers have been singing in the KHG since 1976. The focus of the musical engagement is the interpretation of gospels and spirituals for the musical design of divine services and concerts. Sung a-capella or with piano accompaniment. In addition to an extensive repertoire of this spiritual music, the program of the choir also includes works by the Comedien Harmonists, the Bläck Fööss, the Barbershop-Music, the old masters, etc.
Meeting: Tuesdays at 6 p.m. in the Great Hall of the KHG
www.tempelsingers.de